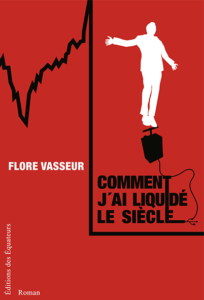 Éditions des Equateurs, 2010
J'ai Lu, 2011
Prix Colère du Présent / Jean Amila Meckert 2011
Not published in english BUT available in full for consideration.
Download the 4 first chapters in english
Pierre, a plumber's son from Clermont-Ferrand, finds refuge from his dull childhood in the world of mathematics.
Now a king of "quant" in a major French bank, he creates flash trading programs that make billions. His personal life is a disaster. His daughter's anorexia, his father's death, September 11th and his peculiar relationship with an endearing prostitute force him to face up to what he has become: a machine.
A formidable septuagenarian woman, supposedly the head of the Bilderberg Group – a secret organization whose aim is to ensure America's domination – summons him to New York. There can be no successors to the American Empire –and above all not China. She aks Pierre to launch an algorithm she cooked on the financial markets. He wonders: what if, after all, a terrorist attack on the markets (one of the FBI's most feared scenarios) was the only way to win back his life?
After her first novel Une Fille dans la Ville (Les Équateurs, 2006), Flore Vasseur carries out an autopsy on the oligarchy of the financial world, trapped in its own sophistication and morbid dogmas. The book's gripping and realistic scenario describes what capitalism's next step could hold for the future.
"Impossible to put down before the very end." Paris-Match
"Flore Vasseur again proves that she knows how to probe our times like no one else. In doing so, she finds herself at the forefront of today's literature." Le Monde
"The revenge of fiction on the economy" Le Figaro.
"Flore Vasseur nails down the finance forces that rule the world. In today's world, this is as instructive as it is brilliant." Elle.
Not published in english but the great Dave Eggers, one of my favorite author, read it !